Community
Teamsters hold vigil at Cardinal Health's annual meeting
DUBLIN - Teamster members gathered holding candles before sunrise Wednesday morning.
It was a vigil to bring attention to opioid addiction.
The vigil was held in front of the wholesale distributor, Cardinal Health in Dublin. The shareholders met today, but teamster members gathered to also send a message to the company.
Teamster leader, Ken Hall says it's an issue that is killing people.
Cardinal Health is under fire from the Ohio Attorney General who claims the company and other distributors are responsible for the opioid epidemic that is sweeping across Ohio.
The family of victims who died of drug overdoses were present and wanted their voices to be heard.
Brenda Ryan was one of them. Her daughter, Sheena died of a drug overdose at the age of 31. Brenda says her daughters' addiction to opioids started after taking prescription drugs.
Several representatives from the Teamster union addressed Cardinal Health shareholders today asking them to establish an independent committee that investigates the company's business practices.
They also asked Cardinal Health to take greater accountability for the companies' role in what the Ohio Attorney General says is fueling the opioid crisis in Ohio.
---
---
Teamsters Pledge More Than $1.4 Million
To Fight Against Addiction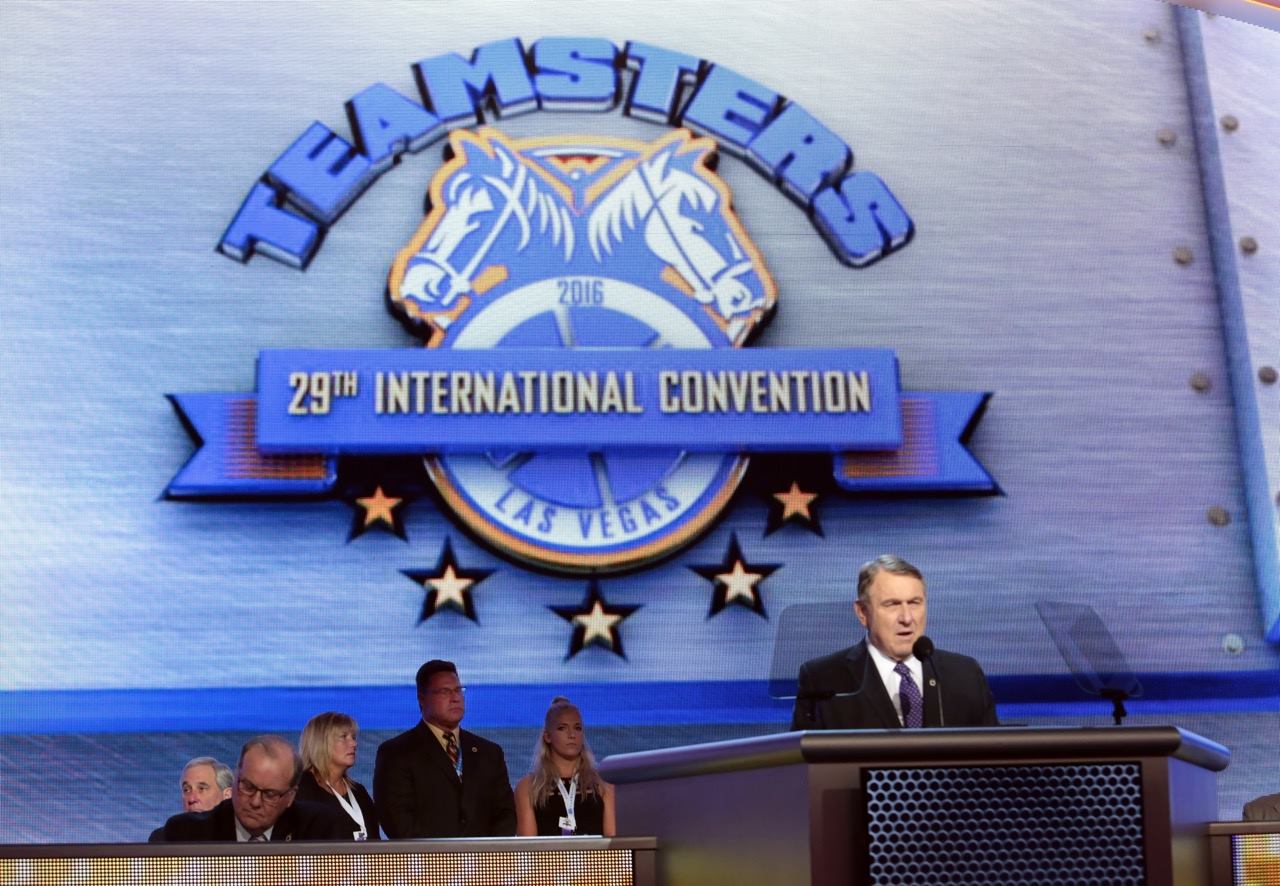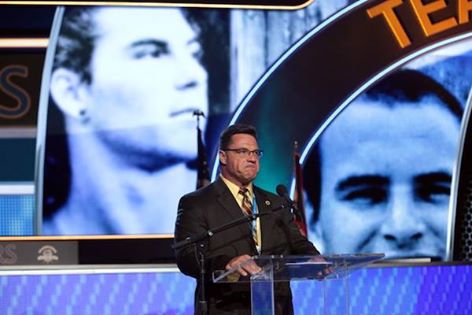 (LAS VEGAS) – Today, Teamsters at the union's 29th International Convention pledged more than $1.4 million to the fight against addiction.
"This is what it is to be a Teamster, what it means to be united and proud," said Jim Hoffa, Teamsters General President. "Our organization is full of amazing people giving back to those around them."
The International Union, Joint Councils and local unions showed tremendous support after hearing the story of the Bornstein family from Akron, Ohio.
Travis Bornstein, President of Teamsters Local 24 in Akron, spoke to the thousands of Teamsters about the loss of his son Tyler to a drug overdose. Tyler, an accomplished college student and athlete, became addicted to drugs after being prescribed pain medication for injuries.
After Tyler's death, the Bornstein family formed "Breaking Barriers – Hope is Alive" in his honor. The 501(c)3 non-profit organization brings awareness, educates the public and inspires breakthroughs in treating people suffering from addiction. Every 19 minutes in the U.S. someone dies from a drug overdose.

"Addiction is not a moral failure; it is a disease. Tyler is my hero to have accomplished so much with such a gut-wrenching disease," Bornstein said. "Thank you. We are going to make a difference. We won't let you down."
A long line of Teamsters from throughout North America lined up at the microphone for over an hour, each pledging their financial support. They also shared emotional personal stories of loved ones who are battling or who have lost the battle against addiction.
Other business during the third day of the convention included the passage of a resolution in support of continuing work to protect the retirement security of Teamster members and retirees.
The Teamsters' organizing success in the school bus and transit industry, as well as the airline industry, was featured.
Convention participants heard messages of solidarity from Hassan Yusseff, President of the Canadian Labour Congress; Dennis Williams, President of the United Auto Workers; and Ariel Jacobi, General Secretary of the Israeli union IUGE.
Nominations for regional vice presidents were held earlier in the day.
The International Convention, held every five years, is the supreme policymaking body of the union with the power and authority to modify the Constitution, establish programs, address fiscal issues and set priorities.
This week, delegates will consider constitutional measures and resolutions. Delegates will also nominate candidates for the International offices of General President, General Secretary-Treasurer, Vice Presidents and Trustees.
Founded in 1903, the Teamsters Union represents 1.4 million hardworking men and women throughout the United States, Canada and Puerto Rico. Visit www.teamster.org for more information. Follow us on Twitter @Teamsters and "like" us on Facebook at www.facebook.com/teamsters.
---
TEAMSTERS LOCAL NO. 24 ASSIST RAHAB MINISTRIES IN AKRON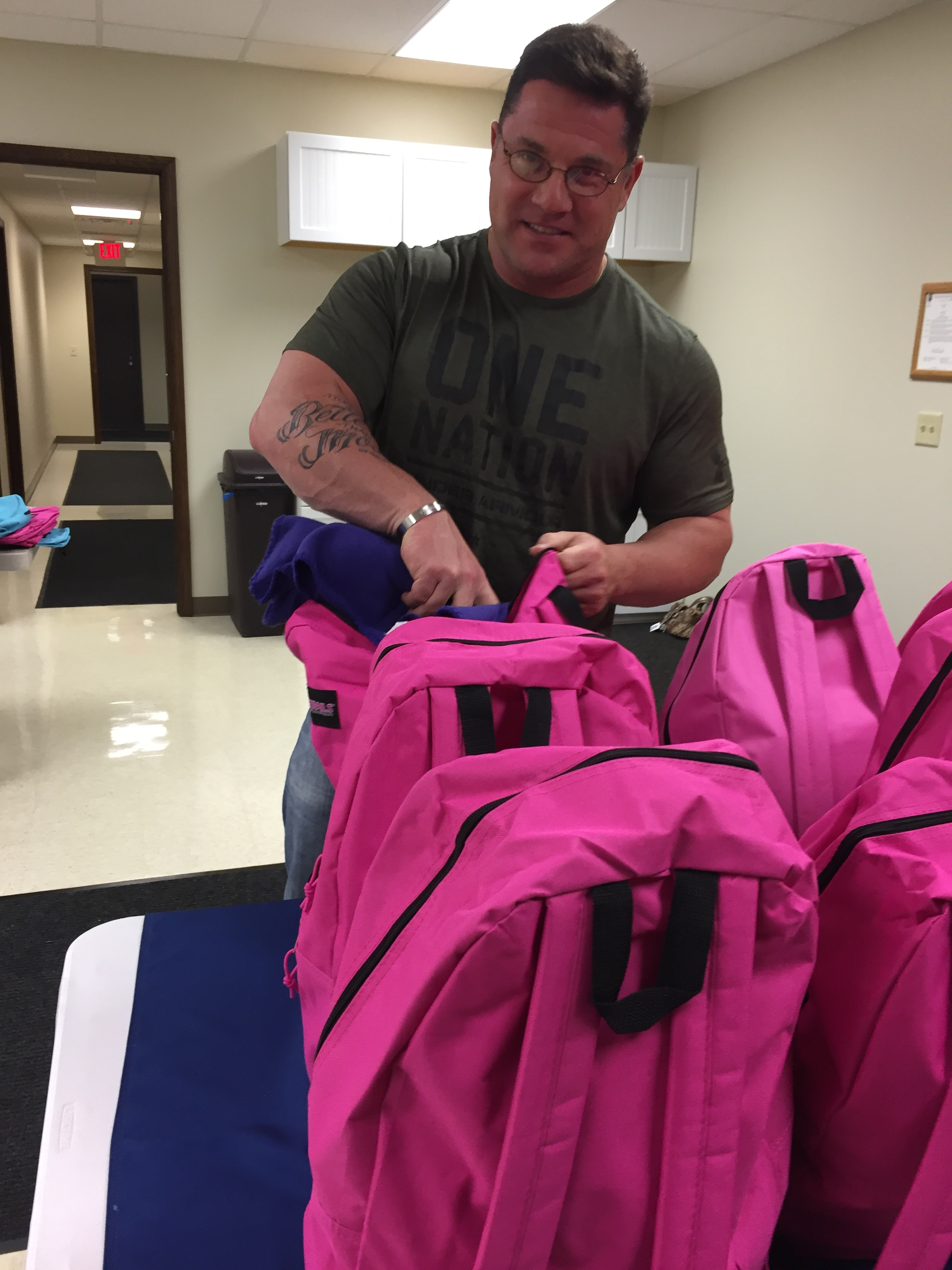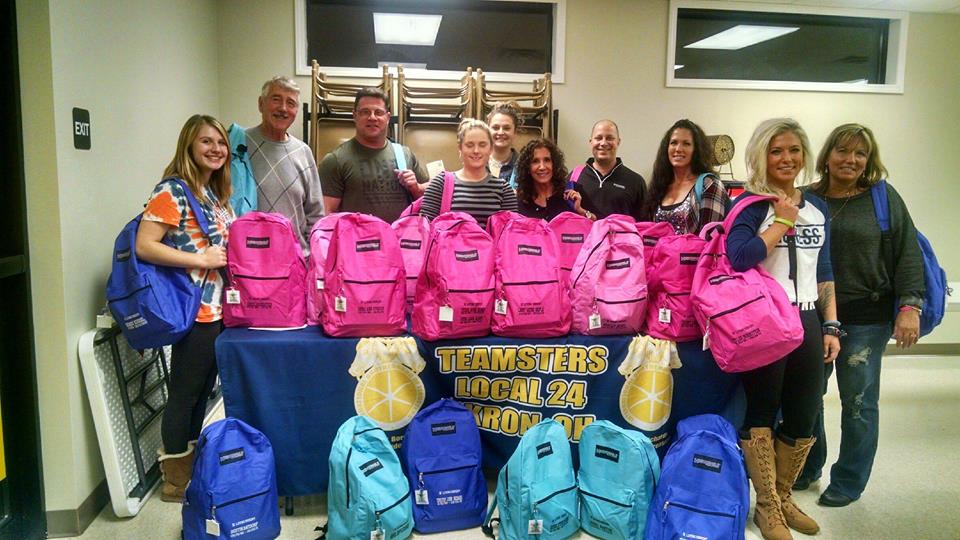 Local 24 members and families volunteered to assist Rahab Ministries of Akron to fill 36 backpacks for homeless women who are on the street. Local 24 Executive Board and members approved a $600 donation to assist in the assembly of 10 backpacks. Backpacks included winter hats, scarves, gloves, blankets, hygiene products, hairbrush, granola bars, peanuts, etc. and information on how to get help in the Akron area.
---
A DOCUMENTARY ON THE HEROIN EPIDEMIC IN OHIO. TRAVIS BORNSTEIN, PRESIDENT OF LOCAL NO. 24 SHARES HIS STORY WITH 10TV
---
PRESIDENT, TRAVIS BORNSTEIN TESTIFIES AT THE STATE HOUSE ON HOUSE BILL 249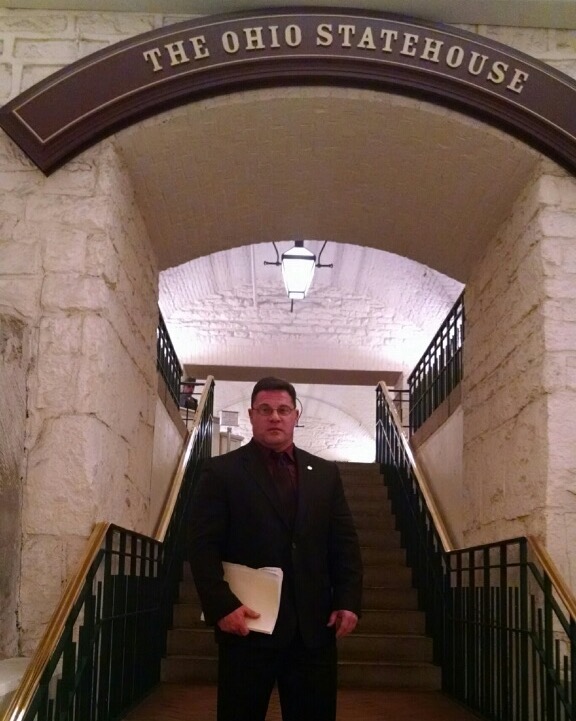 The Ohio House of Representatives
Judiciary Committee
Chairman Representative, Jim Butler
(Written Testimony to be Read Orally October 27, 2015 on House Bill 249)
Mr. Chairman,
I first want to thank all of you for the opportunity to let me testify here today and tell my family story at this hearing on House Bill 249.
I would like to begin by telling you a little bit about myself, my name is Travis Wilson Bornstein. After high school I voluntarily enlisted in the United States Marine Corps. I spent four years on active duty and two years in the inactive reserves. I was meritoriously promoted to sergeant (E-5) at age 21.
For the last 27 years I've been a Teamster member of Local No. 24 in Akron Ohio. 20 of those years I've been a full-time officer and the last 17 years I've served as the President and Principal Officer of Local No.24.
I'm 49 years old and I've been married to my wife Shelly for the last 26 years she works at Aultman Hospital in Canton, Ohio as a Nuclear Medicine Technologist. She's been there for 27 years. We have 3 children, our youngest daughter Taylor is 18 years old and a graduate from Lake High School in 2015 with her license in cosmetology and she has a full-time job and her own apartment.
Our oldest daughter Tana is 22 years old and a graduate from Lake High School in 2012 and she is in her senior year of college at Walsh University studying exercise science.
That leads me to my only son Tyler Wilson Bornstein. Tyler was a 2009 Magna Cum Laude graduate of Lake High School. He participated on the back to back Federal League Championship golf teams earning all-league and all county honors his freshman, sophomore, and junior years. His senior year he decided not to play golf and instead participate on the Lake Bluestreak Football Team. At the end of the season Tyler earned the Senior Ironman Award.
After high school, Tyler attended Walsh University to study accounting and finance. After not playing competitive golf for over two years, he decided to walk on the golf team earning a golf and academic scholarship. See Tyler was smart, athletic, a hard worker, he was gentle and kind and had lots of friends. He also had a physique like a Greek God. In March of 2013 he entered the Natural Junior Mr. Ohio Bodybuilding Show, taking second place in his very first competition. Of course I get to say all these nice things about my boy because I'm his dad, but it's also true. So how does a kid like Tyler who comes from a middle class family, with loving parents and tons of family and friends who loved him get addicted to heroin?
Well let me try and give this committee and explanation...See Tyler broke his right arm four times and had two surgeries on his right elbow, the first at age 11 and the second surgery at age 18 and in the process he became addicted to the opiate pain medication which ultimately led him to heroin.
Tyler spent the next five years in and out of rehab facilities in Ohio and Michigan and in January of 2014 took a leave of absence from college and entered into a six-month treatment program at a sober living facility in Florida. He came back home to Ohio in June of 2014. He enrolled back at Walsh University and talked to the golf coach about getting back on the golf team. But in mid-September of 2014 Tyler relapsed and after our insurance ran out he was seeking treatment in a state-funded rehab facility but was put on a three week waiting list before he could get help. Tyler could no longer deal with the pain from opiate withdrawal and therefore decided to use heroin one more time.
On September 28th 2014, one year and 29 days ago, Tyler met up with another heroin addict and was in the process of overdosing and instead of the other individual calling 9-1-1 for help, he took my son to a vacant lot on the corner of Arlington and Alfred in Akron, Ohio and left him there to die. Later that day the Summit County Sheriff's Department showed up at my house. I was not home but he proceeded to tell my wife and 17 year old daughter that a resident found a dead body in a vacant lot and it was our 23 year old son. The Sheriff went on to say that the Medical Examiner determined that Tyler did not die at that site but instead was moved from another location.
How does a family recover from such a tragedy?
If I may, let me leave you with a couple thoughts….the first thought is FORGIVENESS... I've learned that I have to forgive a whole lot of people for me to recover and move forward. Guys like the drug dealer, the person who dumped my son's body in a field like a piece of trash. The Doctor who prescribed opiates to a kid.
But most all ...MYSELF... I was embarrassed and ashamed to talk to anyone about my son's addiction because I thought I failed as a Father and my son was a Moral Failure. I was embarrassed of my son.
My second thought is EDUCATION…. See, my wife and I and our family attended the National Rally for a Federal Response to the Opiate Epidemic in Washington, D.C. What I learned there was, that the over prescribing of opiate pain medicine has harmed millions of pain patients and led to a sharp increase in addiction, heroin use and overdose deaths. I also learned that the United States Government acknowledged that this is the worst drug epidemic in US history. I was stunned when I heard the top Doctor of the United States.... The United States Surgeon General say "that addiction IS NOT Moral Failure that it's a disease just like cancer, heart disease, and diabetes and should be treated like a disease". Wow a Disease not Moral Failure. I am learning to forgive myself and I'm no longer embarrassed of my son.... he is now my hero to accomplish so much with such a gut-wrenching disease. I'm only embarrassed that I was a fool.
Unfortunately it's too late to save my son however there are many lives that can be saved by passing a Good Samaritan Law in the State of Ohio ...I know in my heart if we were leaving cancer patients... or any person with a disease in the streets to die... because someone was afraid to call for help... I know the people of Ohio would be outraged.
Therefore I am respectfully requesting that you support House Bill 249 Aaron's Law.
Respectfully Submitted,

Travis W. Bornstein
Proud Father of Tyler W Bornstein
---
ADVOCACY DAY
OCTOBER 5, 2015
President Travis W. Bornstein had meetings with Senator Sherrod Brown & Congressman Tim Ryan's staff to discuss changes in healthcare laws and the rising opiate epidemic that is devastating the state of Ohio and sweeping across our County.
---
NATIONAL RALLY, WASHINGTON, D.C.
OCTOBER 3RD & 4TH, 2015
Travis W. Bornstein President of Teamsters Local No. 24 attended the National Rally for the Federal response to the opiate epidemic in Washington, D.C. Participants marched from the National Mall to the White House demanding an immediate coordinated and comprehensive Federal action to end the epidemic of opiate addiction and overdose deaths.
---
TEAM RALPH 2015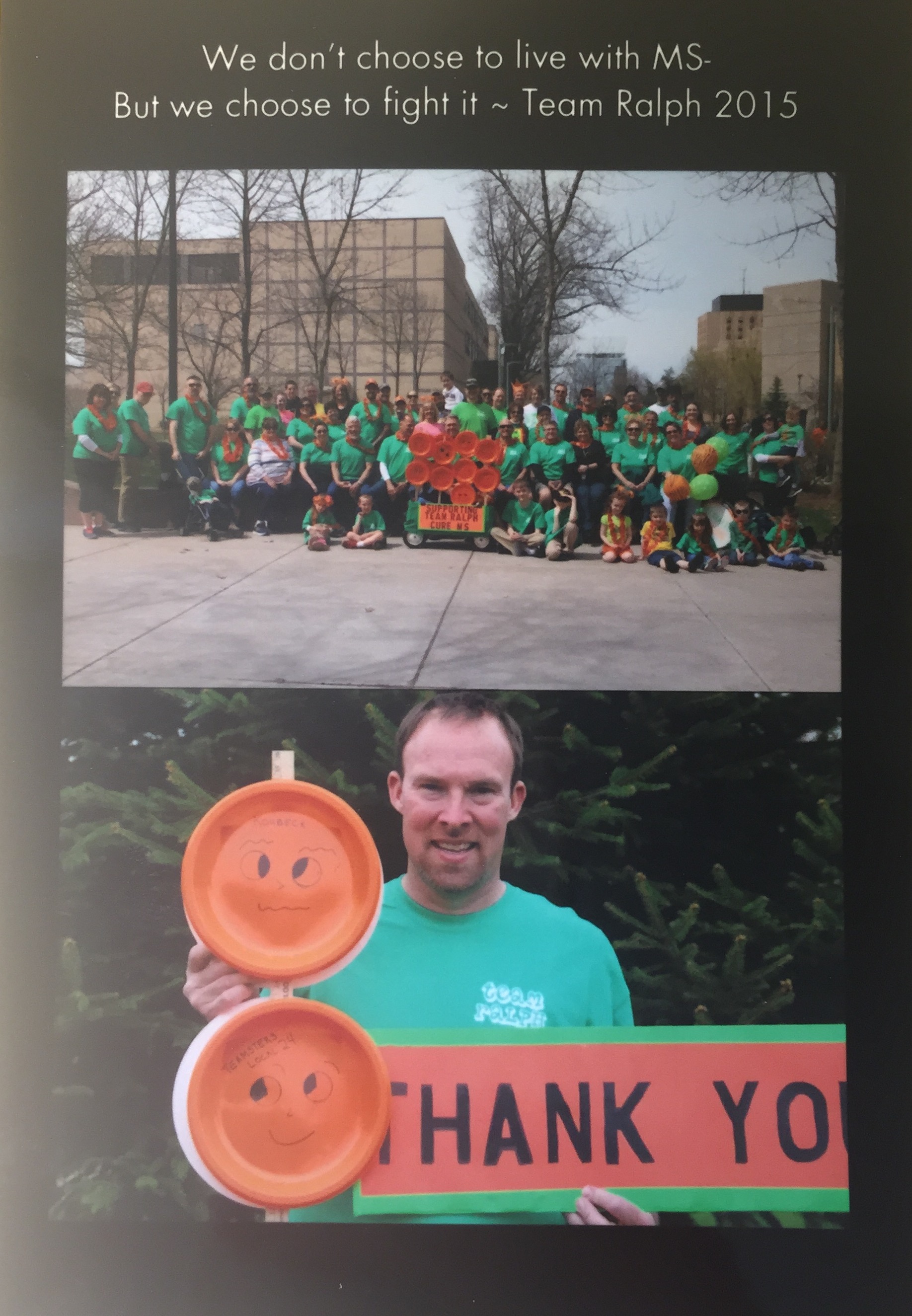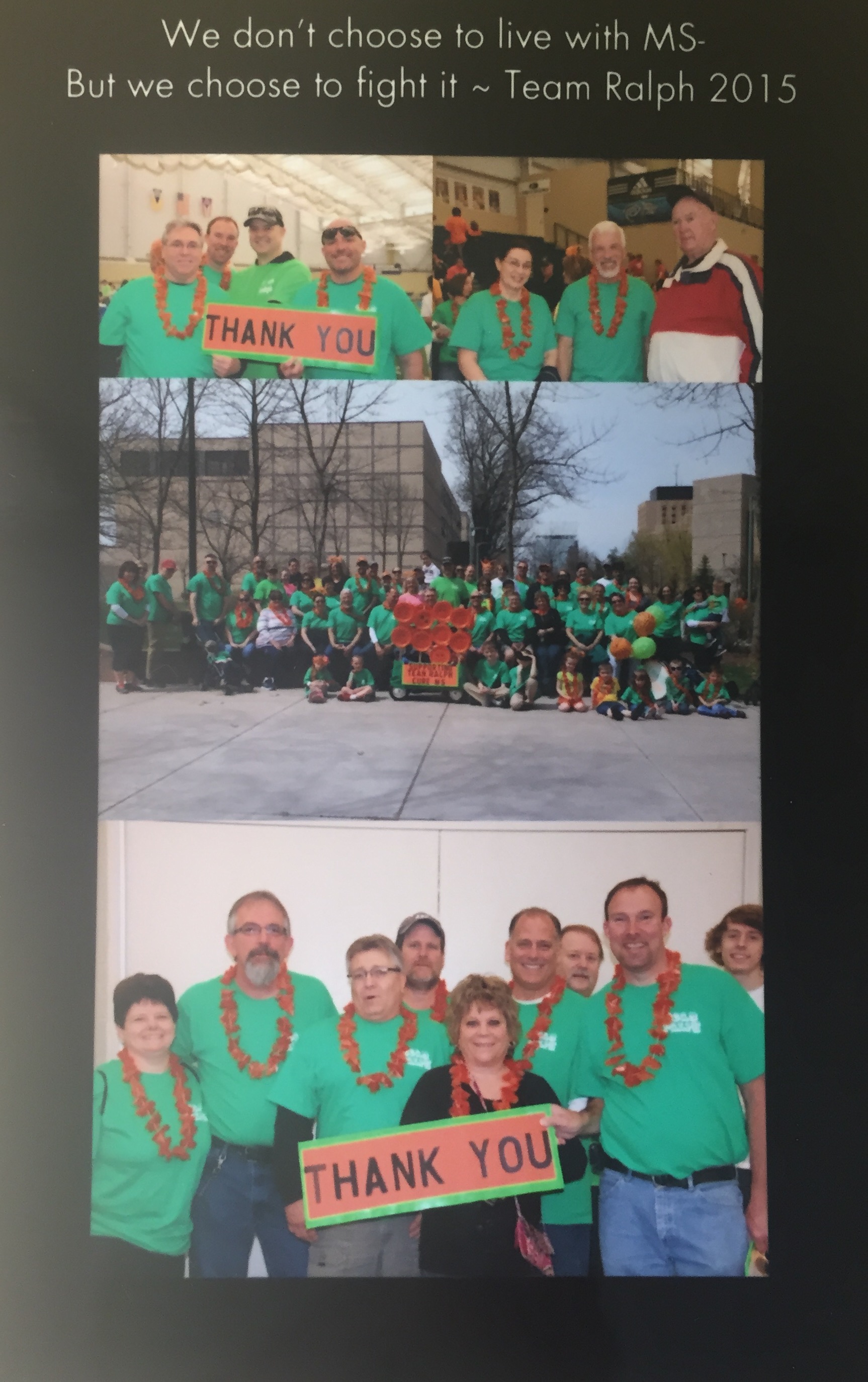 Pictured above: Local No. 24 members employed at A.B.F. Freight and Holland participate in the annual walk a thon at The University of Akron in support of former Holland employee and Local No. 24 member Ralph P. Local No. 24 Executive Board also made a donation.
---
STEPS OF CHANGE
Sponsored By Ohio C.A.N.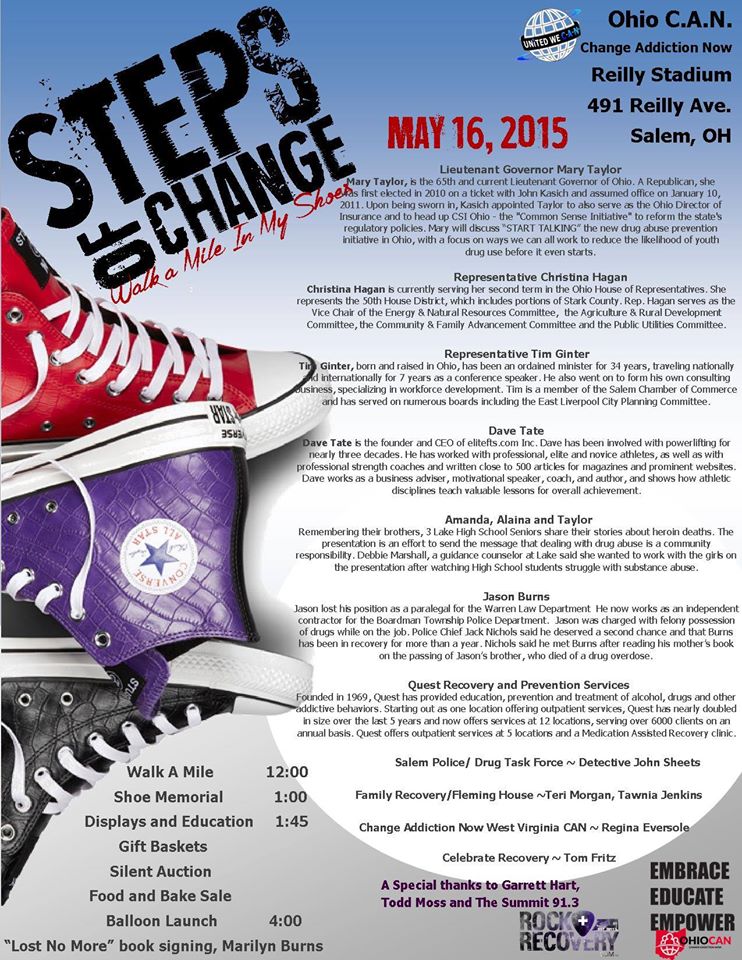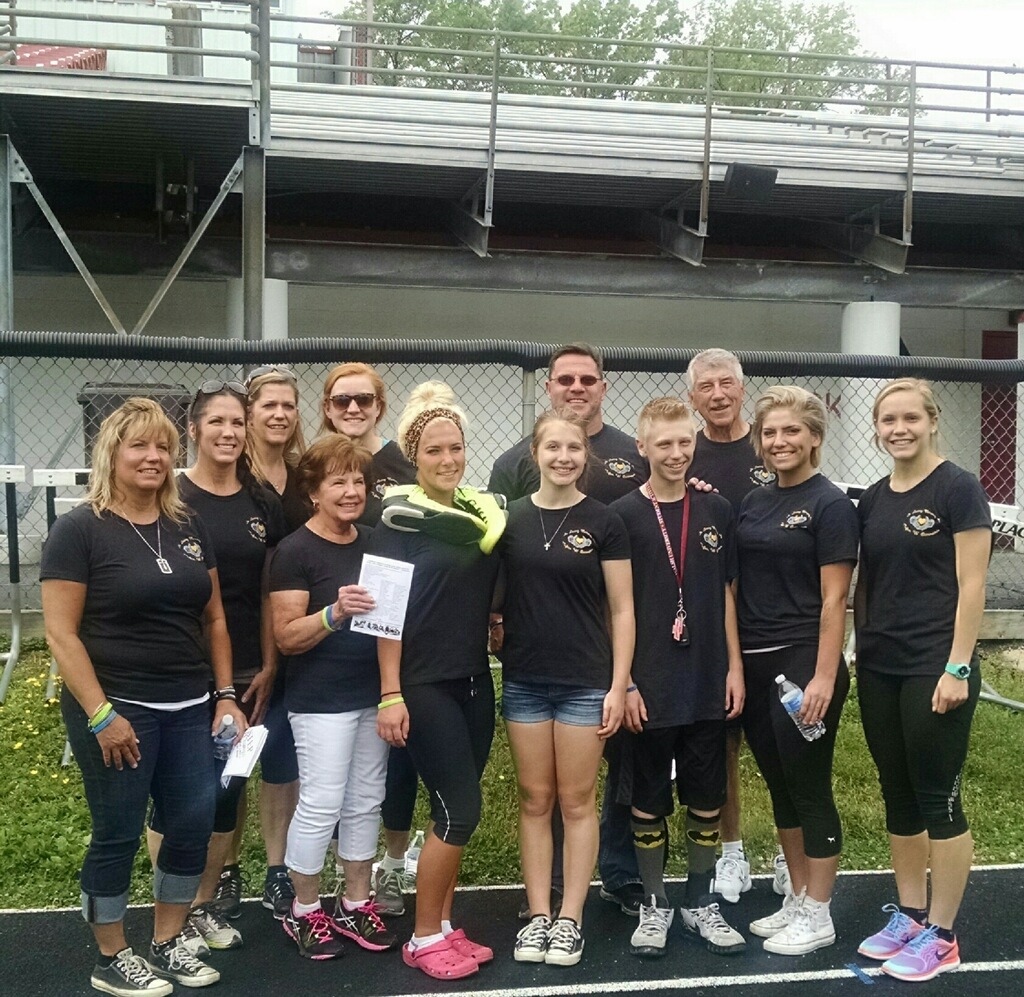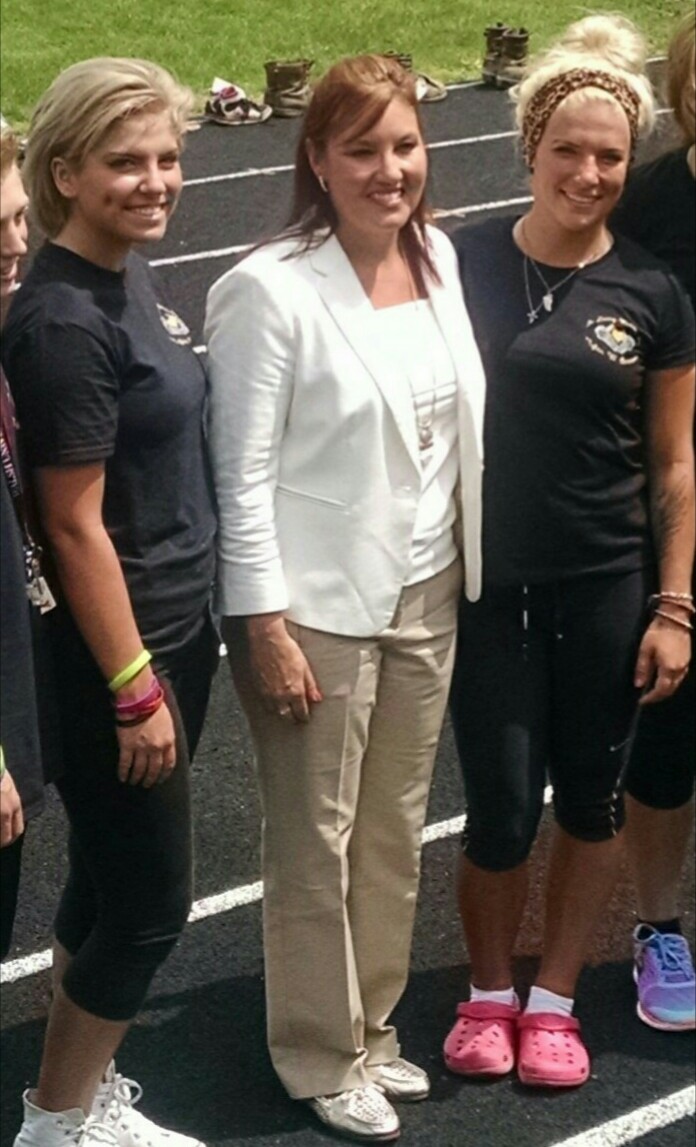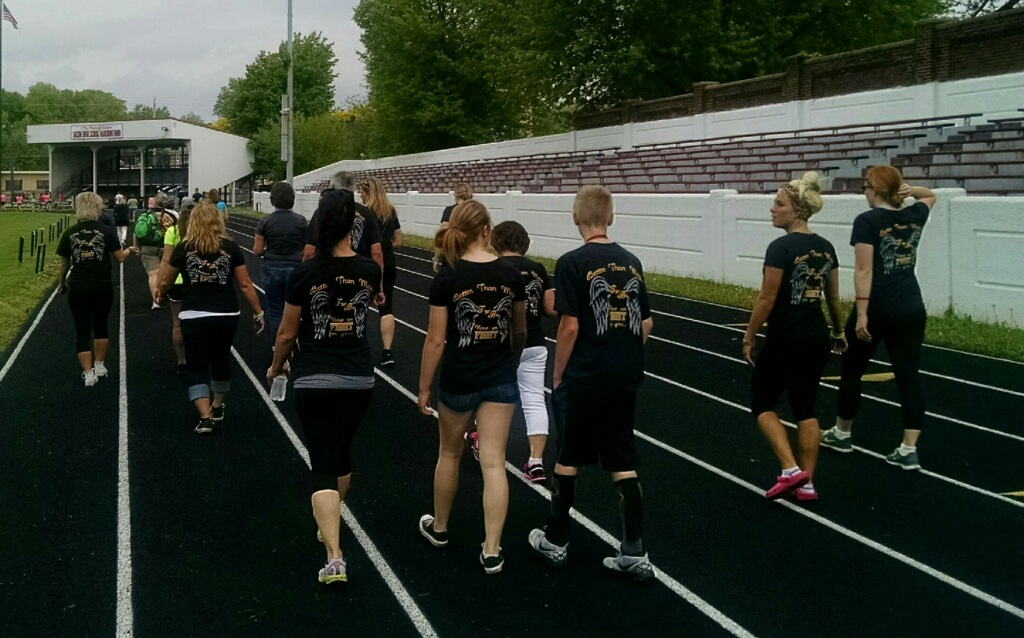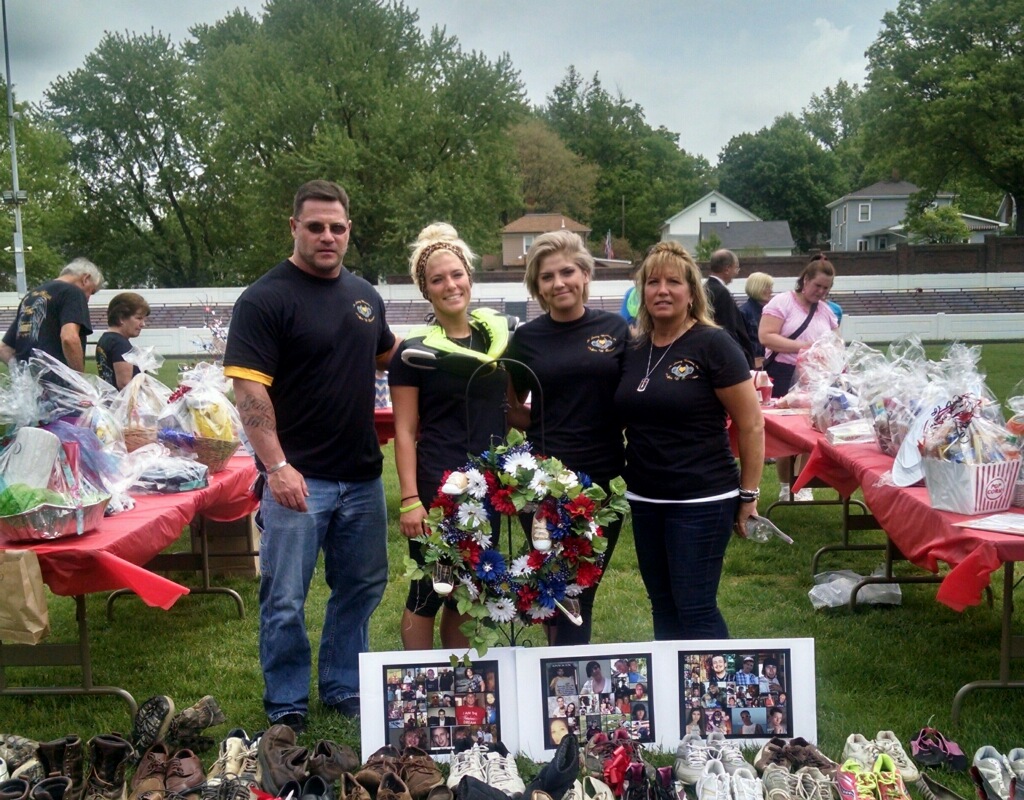 Travis Bornstein & family participate in Steps of Change, "Walk a Mile in My Shoes" on May 16, 2015 sponsored by Ohio C.A.N.
---
Remembering their brothers: Lake seniors share stories of heroin deaths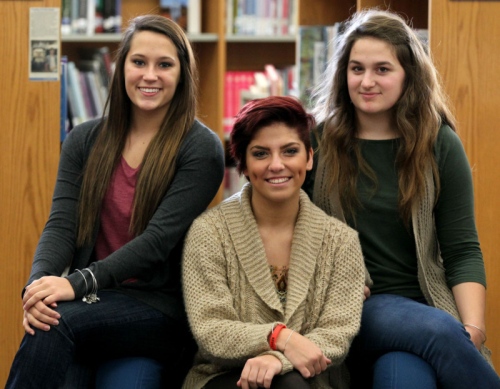 Alaina Warner remembers the last compliment her big brother gave her before he overdosed on heroin.
He asked whether she had a date to her junior prom. When she said no, he said he didn't understand why because she was probably one of the prettiest girls at school.
About an hour later, Warner's mother found him passed out, his skin purple and his lips blue. She was screaming and trying to administer breathing compressions.
"I just remember these terrible sounds coming from his mouth," Warner said.
Her family made funeral arrangements and decided to donate his organs. Warner was at her sister's college graduation in May when doctors took her brother off life support and proclaimed him dead.
Three seniors at Lake High School on Tuesday shared stories of how their brothers died from heroin overdoses.
In speaking with students and, later, parents, they focused on the ways addiction affected their families and changed the personalities of their siblings, showing pictures of their brothers as children and also of them dying in hospital beds.
The presentation, which is planned to be the first of three events hosted through the school district, is part of an effort to send the message that dealing with drug abuse is a community responsibility.
At the end of their discussion, the girls asked any student who had been affected by addiction — either personally or through a friend or family member — to stand. About a quarter of the people in the packed auditorium rose from their seats.
TAYLOR'S STORY
Taylor Bornstein was getting out of the shower in September when law enforcement showed up. She heard her mother scream.
"I instantly knew what happened," she said.
Her 23-year-old brother, who was addicted to heroin, had relapsed a few weeks earlier.
The investigators started to tell her her brother had overdosed and that his body had been left in Coventry Township before her mother stopped them from talking to her.
Taylor called her father, who was an hour away at a golf outing. When he got home, she couldn't say it. Her mom broke the news instead.
"I just watched my dad fall to the ground and cry," she said.
HEROIN DEATHS
Overdose deaths involving heroin tripled between 2008 and 2013 in Stark County, according to data from the county coroner's office.
A Repository analysis of heroin-related deaths showed the victims most commonly were white men who had lived in Canton and its surrounding townships, though nearly every city, township and village in the county was represented.
Debbie Marshall, a guidance counselor at Lake High School, said she wanted to work with the girls on the presentation after watching students struggle with substance abuse and have run-ins with law enforcement.
Marshall cried as she spoke about how proud she was of the three seniors and thought about what they had been through together.
The girls wear silver bangle bracelets — gifts from Marshall — in memory of their brothers, all of whom have died within the past year.
AMANDA'S STORY
The morning after Amanda Westbury's brother came home from jail last fall, she found him at 5 a.m. in the kitchen, playing with the stove and the refrigerator. He was "obviously high," she said, but he told her he was just tired.
He wouldn't let her leave for school until she gave him a hug.
A few hours later, she met her parents in the waiting room at the hospital, after being pulled out of the lunchroom for what school administrators said was a family emergency.
Westbury was there no more than five minutes before a doctor told the family her brother wouldn't wake up. He was brain-dead, she said, but the doctors said they couldn't classify him as such because of the number of drugs in his system. It took four days for him to detox.
While he was alive, Westbury's parents put her brother in jail — sometimes calling police for domestic violence — more than he'd get caught for crime, Westbury said. Because as long as he was in jail, he wasn't using heroin.
TAKEAWAYS
During one portion of the program, the girls played recordings of their family members reading letters to their brothers. They expressed regret that they wouldn't be able to share life milestones together and thankfulness that the person's fight finally was over.
Students in the audience sniffled and wiped tears.
As the girls talked prior to their presentations this week, they said they were worried most about being judged for speaking about their experiences.
They didn't want people to look at their families differently or view their brothers only as addicts, rather than as athletes or students or friends.
Each girl said she had to learn it wasn't her brother wreaking havoc on her family, but the heroin in his system.
While their brothers battled addiction, they became increasingly violent, made hurtful comments and stole from the family. Two of them pawned diamonds from their mothers' wedding rings.
"Addiction makes people do dumb, stupid things," Westbury said.
Another major component of their message was that drugs are dangerous even the first time you use them.
There's a misperception among their classmates, they said, that addiction isn't real and that they can try drugs without consequences.
Bornstein had a friend who told her addiction was "a mind thing" and that he was strong enough to withstand it.
"Hey, one of these times, it's gonna hit you," she said. "And you're going to need it."
Following the presentation, junior Abby Troyer said she was glad her classmates shared their stories because a lot of kids and their family members are using drugs.
Troyer was comforting Brianna Sharp, who had a family member overdose from heroin. Sharp said the presentation was necessary because many people don't understand until they have an experience with it.
"It really hit home for me," she said.
Reach Alison at 330-580-8312 or alison.matas@cantonrep.com.
On Twitter: @amatasREP
---
In a quiet, suburban community, three girls recall horror of watching their brothers die of heroin use

LAKE TWP.: Alaina Warner remembers her brother complimenting her beauty, playfully asking about her date only days before the prom.
Then her eyes drift as she recalls the heavy metal music and her mother's shrill cry coming from her brother's upstairs room only hours later.
"He was keeled over on the bed and he was bright purple," she said, remembering the terrible noises coming from her brother's mouth as her parents performed CPR.
Amanda Westbury smiles, too, at first, thinking of her older brother's annoying laugh.
Leaving for school last November, she retells his last words: "No. You can't leave. You have to give me a hug."
The next time she saw him, hours later, he was in a coma at the hospital.
"He just had tubes in his throat and needles in his arms," she said. "He was brain dead, but they couldn't say he was brain dead because there were still drugs in his system."
The tears come quickly.
Taylor Bornstein spoke with the police when they came to her parents' home in September. Her mother couldn't handle the bad news.
But when her father came home, Taylor broke down. She could see only her brother's face in his.
They looked so much alike. And she couldn't bring herself to tell her father that the police had just found Tyler in a field in Coventry Township.
In less than a year's time in a wholesome, tight-knit community, heroin has taken the only brothers these three young girls had.
Seniors at Lake High School, they will tell their harrowing stories to the public and their peers on Tuesday in the performing arts center at the high school. They hope to shock anyone who might think that heroin is just a problem in the city or that the drug can be controlled.
"For me, at least, I want to make some people feel uncomfortable because of how personal we're getting," Warner said. "It's not something you should feel comfortable talking about."
Breaking silence
Their stories, they hope, will inspire addicts and families to come clean about drug use and to seek help and support from the community.
"I think a lot of people are judgmental about it, especially in Lake," Westbury said. "So I think [my parents] tried to keep it a secret as much as they could. But then again, we live in Lake and things spread."
Their presentation will include letters from their parents to their deceased brothers.
They hope something good will come from such great loss.
"We didn't understand that you can't stop it. It takes over your body. It takes over everything," Westbury said. "We need to get people to realize that addiction is not something you can just stop."
Debbie Marshall, a guidance counselor at Lake High School, started talking weekly with Westbury after her brother Tyler, 20, died in November 2013, then with the other girls after Zach Warner, 24, and Tyler Bornstein, 23, followed in May and September.
"In my position as a school counselor, I've seen students dealing with [the loss of family to addiction] and working with students going in and out of rehab, watching them struggle," Marshall said of 11 years in counseling. "I think it's become much more serious because now, when you have those conversations, when you're talking about heroin, it's life and death. When I first started, we did not see what we are seeing now."
Since August, Marshall and a former school board member have assembled the Community Cares committee, a group set on fighting drug use by convening Lake community educators, trustees, law enforcement officials, youth organizations, hospitals, churches, addiction counselors and health service providers.
Going mobile
Tracking fatal heroin overdoses statistically can be problematic. The user could live in one place, buy from another, shoot up at a third and die in a different town or city.
Take the girls' brothers, who are among five people with family ties in Lake who have fatally overdosed on heroin in the past year.
Though he had only recently moved in with a girlfriend in Green, authorities considered Tyler Bornstein a Summit County resident who died in Coventry Township, where his body was left in a vacant lot.
Tyler Westbury and Zachary Warner both overdosed in their parents' homes. Each spent days unconscious in hospitals in Summit County, where they died.
"The people here, locally, see that someone died in Akron," Uniontown Police Chief Harold Britt said. "People don't want to admit that we have a drug problem.
"We do."
The problem today, Britt said, is that suburban users are mobile.
In Lake Township, fatal drug overdoses are down, but that doesn't mean fewer locals are dying.
"We may be seeing a downturn in it because they're staying mobile with their heroin. If they're buying in Akron, they're shooting up before they get here to Uniontown. And I know in Green there's been several at the McDonald's either on Arlington or Massillon where they've had overdoses in the parking lot because people buy their heroin in Akron. They're shooting it on their way home. They throw it out the window. And they go and try to get something to eat.
"By that time, they've OD'd."
In Summit County, where all three Lake men died, fatal heroin overdoses have tripled from 18 in 2011 to 54 last year, according to the county coroner. In that time, overall fatal drug overdoses grew at a much slower pace, from 81 to 99.
No. 1 in overdoses
Heroin, for the first time last year, accounted for the lion's share of all drug overdoses.
Overall overdose deaths appear to be increasing this year, and the portion attributed to heroin, down slightly, is at 30 percent.
Several factors have made heroin more deadly than ever.
Authorities say the drug is stronger than ever.
"Heroin is deadly itself," Britt said. "But now they're mixing it with fentanyl and other pain medicine to make it more deadly. And maybe some of these kids don't know that there is fentanyl in this. Maybe they believe that they're getting straight heroin."
Even the straight heroin, authorities say, is more potent than that sold in the 1970s and 1980s.
Unfortunately, Britt said, users are drawn to deadlier heroin, which they consider "good stuff."
Toxicology reports found that the heroin Westbury, Bornstein and Warner took was laced with a pain killer.
Detective Mike Schmidt, along with his partner in the Akron Police Department, was assigned in April to investigate heroin and other drug overdoses in the city.
He said in more than half of all fatal overdoses, heroin is mixed with or is actually pure fentanyl, which is a synthetic opioid used for surgery and known for its fast action.
And as the city has cracked down on prescription drug abuse, Schmidt has seen young addicts, who may have started out with doctor-prescribed pain medication for sporting injuries, take greater risks to satisfy an insatiable urge.
"The big thing for us is we're seeing all these young people using this drug," Schmidt said. "That's pretty alarming. If you look back, decades ago, heroin was seen as a pretty dirty, junkie drug. Now, it's not just an inner-city problem. It's in the suburbs. It's everywhere.
'Everything we could'
For years, the Bornsteins helped their son in any way they knew how.
Travis Bornstein, Tyler's father, believes now that his son was teaching him "the two toughest lessons in life, which is patience and unconditional love."
The family sent Tyler to rehab facilities in Ohio and Michigan.
Until June, he stayed at a sober living facility in Florida, where he befriended other addicts only to see them relapse and die.
Each time, his sister said, Tyler became more and more convinced that someday heroin would kill him, too.
Tyler came home in June and lived with his family before moving in with a girlfriend in Green. When he wasn't around, the family knew something was wrong.
But concerns weren't shared outside the household.
"I made the ultimate mistake in this journey of not speaking about it. And I didn't tell any of my friends, anybody at work or any of my colleagues. I tried to just keep my head down and do my job and do what I'm supposed to do," Tyler's dad said.
Then the police found Tyler's body in a field in Coventry Township. Two men, suspected of selling him the laced heroin and possibly moving his body, were arrested. The headlines shocked suburban Lake residents, where a wholesome, traditional small-town setting attracts tourists.
"Now I have no choice but to talk about it," Travis Bornstein said, looking back at his silence.
"For me, to be totally candid, I think the issue is you're just totally embarrassed. You feel like you've failed as a father. You're embarrassed. You're ashamed. And you're trying to protect your other kids. I mean, I always felt like we played by the rules, did the right thing. You know what I mean? We'd go to church every Sunday. We're trying to raise our family in a good quality home with morals and values and all of that stuff. It can't happen to us.
"But it does."
Now that Tyler is gone, the family is unpacking the emotional toll of addiction.
"We sat down as a family after this was over. And we were just talking. And you realize that everything was about Tyler. We would come together for Taylor's birthday, and try to celebrate her birthday. But it always became about Tyler," Travis Bornstein said. "You look back and it was so unfair to the other kids."
Doug Livingston can be reached at 330-996-3792 or dlivingston@thebeaconjournal.com.
---
Honorable Local No. 24 Members:
Melinda Sarokas, Holland

Local No. 24 recognizes member and Holland employee, Melinda Sarokas for her heroic rescue when she performed CPR on a fellow coworker October 2014.
Way to go Melinda!
---
LOCAL NO. 24 BENEFIT RUN

20+ Local No. 24 Members employed at YRC Freight participate in a
benefit run on August 24, 2014 to raise money for fellow YRC Freight
member struggling with health issues. $2,500 was raised!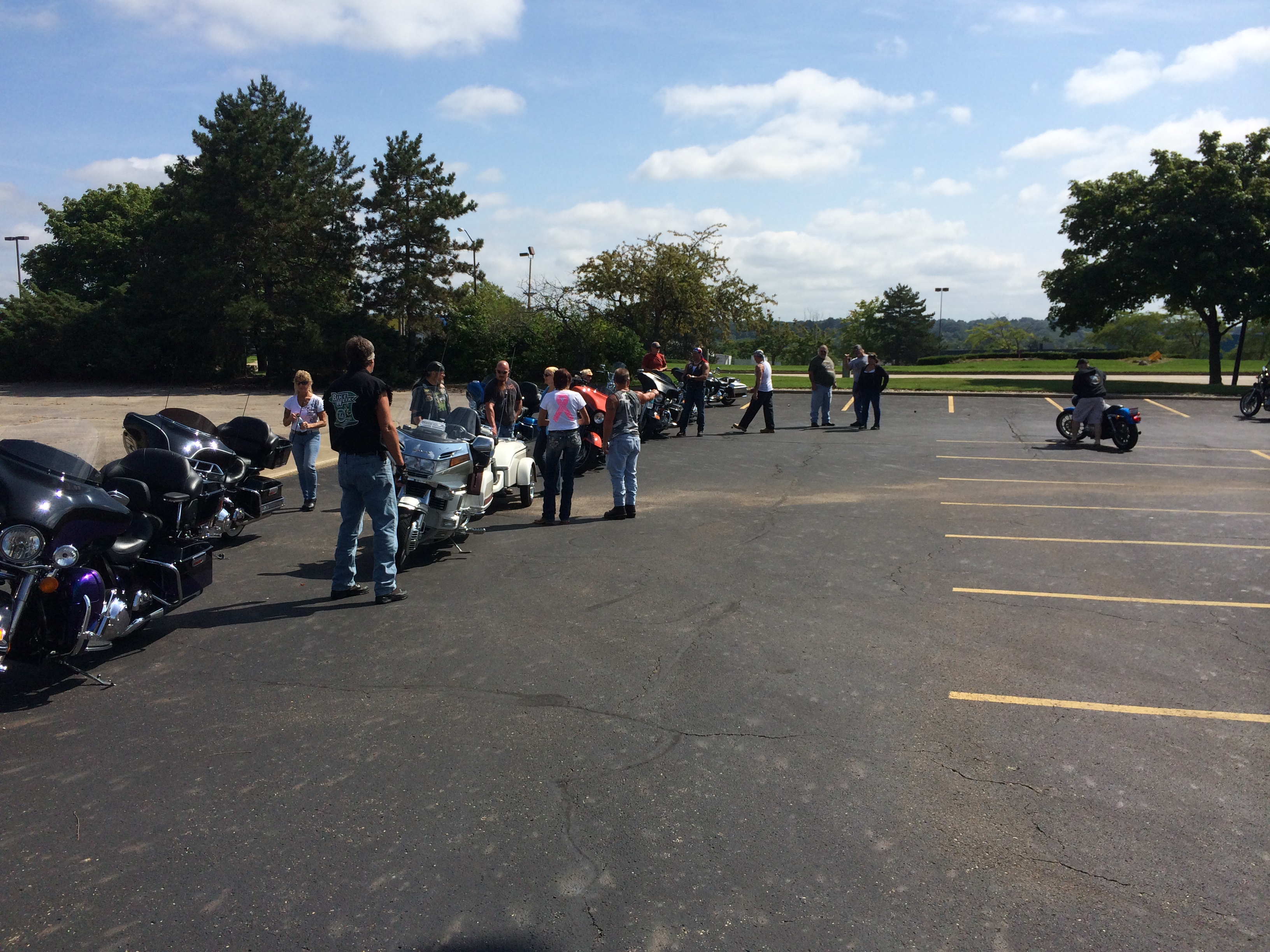 ---
THANK YOU TEAM RALPH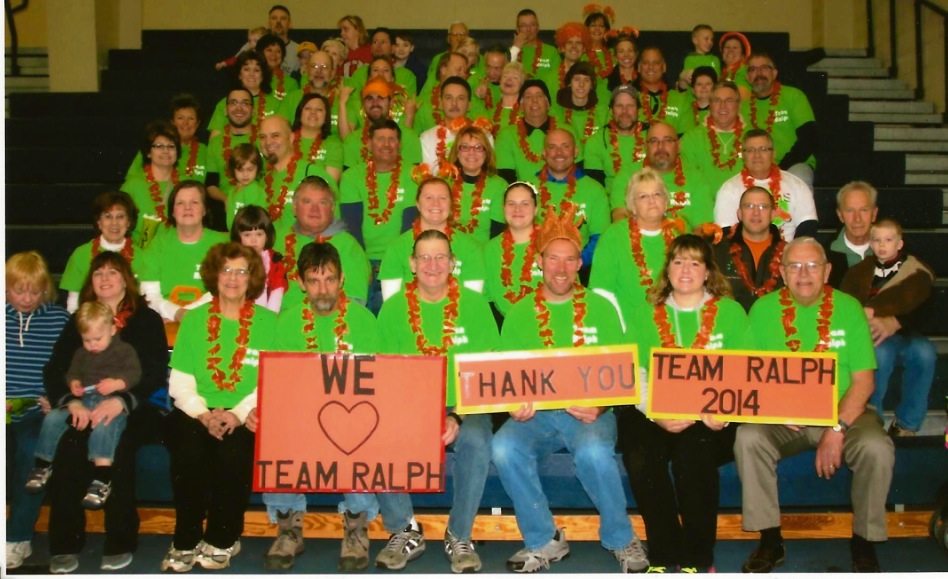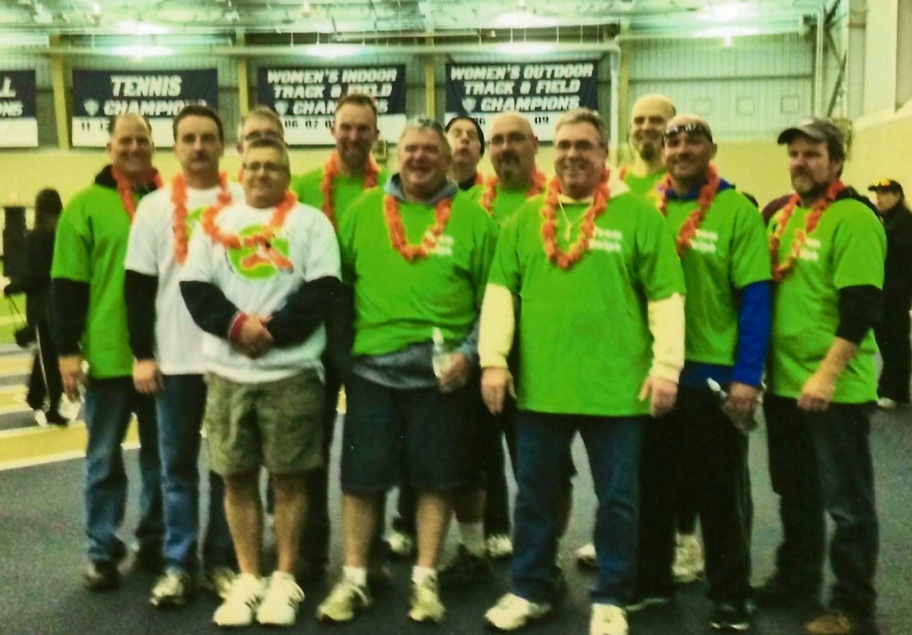 Local No. 24 Members from ABF Freight and Holland participate in a MS walk/fundraiser at the University of Akron on April 28, 2014. Participation was in support of former Local No. 24 member & Holland employee, Ralph Paulus. The Local No. 24 Executive Board also made a donation.
Page Last Updated: Dec 22, 2017 (08:51:49)